IDPF Discount to Digital Book World Conference (Jan 17-18 NYC)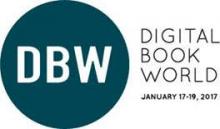 Boost your publishing career this January!
From big-picture topics to practical-use-it-now topics, the new Digital Book World Conference has it all! Use the registration code: IDPF17 to save $200 if you register by December 20. Save 10% off the current registration pricing after December 20th.
For the IDPF community, Digital Book World has a host of sessions just for you, including presentations from 3 IDPF Board Members.
· Creating New Workflows that Work: How to Reduce Friction Between Your Products, Processes & People
· Accessibility Master Class: It's Not Rocket Science & You're Closer Than You Think
· Best Practices for Metadata Management: What You Need to Know to Do It Right
· Converging Standards: Aligning Production & Distribution for a Digital World
· 5 Publishing Tools You'll Wonder How You Lived Without
· It's All About the Customer: How to Think Print + Platform + Product
· Plus many more!
Engage in the vital content and opportunities offered exclusively at DBW. Also make sure you are at the IDPF Open Meeting at DBW on the 18th (12:30-2:00pm) where IDPF Executive Director Bill McCoy, other IDPF Board members, and W3C's Karen Myers will be providing an update on the planned combination of IDPF and W3C