Special IDPF Member Discount Offer for BISG's Making Information Pay 2011 Conference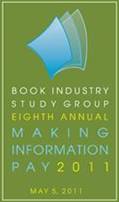 The IDPF and the Book Industry Study Group (BISG) have joined forces to offer their members special savings at two of the book publishing industry's leading and upcoming conferences -- IDPF Digital Book 2011 and BISG's Making Information Pay 2011.
Through this partnership, members of the IDPF can enjoy a 20% discount off the standard registration rate of $275 for the upcoming BISG conference, Making Information Pay 2011. Now in its eighth year, this reputable conference will educate attendees on what it takes to prevail as a multi-business, multi-channel, customer-driven business. The theme of the conference is "Constructing the 21st Century Publishing Enterprise" and will be held at the McGraw-Hill Auditorium in New York City from 9am-12:30pm on May 5, 2011. Please visit http://www.bisg.org/mip/ for more information and enter the code IDPF-20 when registering for your IDPF member savings.
Members of BISG are also now eligible to receive a discount to the highly anticipated IDPF Digital Book 2011 conference, held in partnership with BEA. This leading digital publishing event is drawing industry leaders from across the globe and is being sponsored by OverDrive, Ingram, and more. For BISG member discount information, please visit http://www.bisg.org/event-cat-5-other-industry-events.php. Registration to IDPF Digital Book 2011 includes free admission to BEA and the IDPF Digital Zone at BEA.