IDPF Digital Book 2013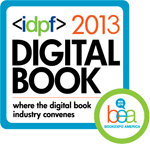 Wednesday-Thursday, May 29-30, 2013
Jacob K. Javits Center, New York City

**IDPF DIGITAL BOOK 2013 is a WRAP - a big "thank you" to all speakers and sponsors. Presentations have been uploaded where provided and approved by speakers - see speaker listing. Save the date for next year: May 28-29, 2014 **
eBooks may have outsold hardcovers, but successfully selling digital editions is only the first phase of a profound transformation of the traditional book publishing business. The immediate challenges are many: navigating among the retail titans, placing your assets in the right hands and into the right channels, using Big Data effectively to optimize reach and revenue, and engaging directly with readers and building community.
We can expect even more dramatic change as entirely new kinds of digital book reading experiences are enabled by the shift to tablets and smartphones, via HTML5 and EPUB 3. As the worlds of apps, browsers, and eBooks collide, and a new generation of digital natives are born, a total transformation of education and reading is imminent.
IDPF Digital Book 2013 at BookExpo America is a two-day conference focused on all the key issues we face in advancing publishing in an increasingly digital world. Digital Book 2013 is designed to give executives, marketers and technologists practical information and tools to inspire and lead organizations in this time of rapid change. In-depth sessions will analyze key opportunities and pitfalls, highlighting compelling business strategies and actionable solutions.
The two-day conference program will feature insightful keynote sessions and three parallel tracks of targeted in-depth content (business & marketing, technology and production, and education and professional publishing). You'll hear from top experts and industry leaders, and network with your peers.
Who Should Attend
IDPF Digital Book 2013 is for executives and professionals across the publishing industry including senior leaders, marketers, publishers and editors, educators, school district administrators, librarians, production teams, distributors, and programmers and developers.